Aee Halooo!!! Finally, my favorite festival has started. I love this festival as it full of Masti, Garba nights, girls get late night permission undoubtedly in this festival. Sounds cool na!!
But, one more thing we do is Navratri Fasting to make happy Goddess Durga. After all this, all celebration is doing to worship Goddess Durga.
The tradition of fast in India has been for centuries. There are many types of fast – some fastings are such that the water is not consumed like that, Karva Chauth, Saktha Chauhan, Teej, etc. Some fastings are such that dry fruit is eaten, such as Janmashtami, Navaratri, Ekadashi, etc. and so on…
In the days of Navaratri, many people keep fast for eight days (from Padwa to Ashtami), and only on Falahahar, they live eight days. Fruitaar means the food made with fruits and some other unusual vegetables. The rock salt is used in the fruit palace. Fasting is celebrated only after the birth of Lord Rama on the ninth day of Navaratri and after worship (Ramnavmi). Those who do not fast for eight days, they fast on the first and the last day (i.e., Padua and Ashtami).
Here are Recipes of Tasty Food for Navratri Upwas.
1. Sabudaane Patties (Crispy Sago Fritters)
Sabudana vada is a favorite recipe for vrats/fasts as it contains no onion and garlic. Sabudana (also known as sago or tapioca) is one of the most common ingredients used for making recipes for vrats during festivals like Navratras.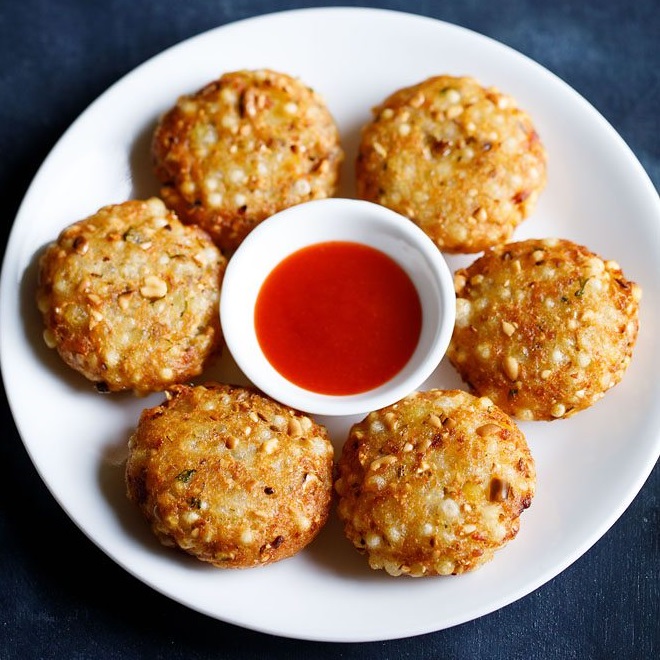 Ingredients:
2 bowl Sabudana (Sago/Tapioca Pearls)
2-3 Boiled Potato.
4-5 Green Chillies
1 piece of ginger finely grounded.
Finely Chopped Green Corriander.
1 Tbsp Cumin seeds
Rock Salt(Acc. to taste)
2Tbsp of Oil/Ghee/Butter.
Recipe:
Soak 

for 5-6 hours,

 1 cup of Sabudana (Tapioca) in water overnight. As they become soft, drain all the water.
Boil, peel, and mash 2 potatoes. Add them to a large mixing container along with the sabudana.
Grind 1/2 cup of Roasted ground nuts. Add these to the mixture as well.
Add Red Chilli Powder, Cumin Powder, Coriander Powder, and Salt.
Then, add 1-2 finely chopped green chilies, 1/2 teaspoon Cumin Seeds (Jeera) and 2 teaspoon lemon juice. Then, Mix all the ingredients.
Divide them into small lemon sized portions and shape them into round flat patties.
Fry the patties in medium hot oil till they turn golden brown. Do not set the heat to a high setting. Otherwise, the

Pattis 

will not get adequately cooked from the inside. Drain the excess oil on an absorbent paper.
Sabudana Pattis are ready. Serve them hot with Curd, Tamarind Chutney, Coriander Chutney or Tomato Ketchup.
2. Santre ke Basundi: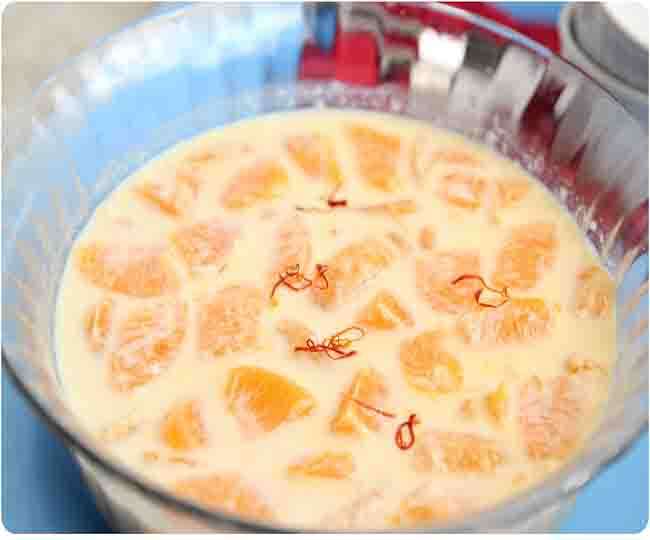 Ingredients: 
Half a liter of milk, 4 oranges, 200 gms of sugar, 1 teaspoon lemon juice, 1/4 teaspoon cardamom powder, 4-5 lashes, small blanket clipping.
Recipes:
First of all, heat the milk, then add the sugars and boil well until it thickens, boil until the milk is half. Then put it in the fridge to cool off the flame.
Now take two orange juice and peel 2 orange and separate the bud and keep it in the fridge. Mix the orange juice and bud in the milk after it cools down, then add cardamom powder, sprinkle the nuts for wrapping and pour the saffron, then serve it.
3. Lauki Ki Kheer:
Although the gourd vegetable does not look good, its tasty kheer will love everyone. It can be made in fast also.
Ingredients
1/2Kg Lauki or Bottle Gourd.
2.5kg Milk
Sugar (As per Requirement)
10-12 Cardomon
20-25 Almonds.
A pinch of Saffron
Recipe:
Peel of the Bottle gourd to grate it. Mix the grated Lauki with milk and Put on a low flame.
Keep it stirring between and when the milk becomes thick and the gourd melts slightly, then add sugar.
Take it off after 5-7 minutes.
Garnish it with cardamon powder and grated almonds.
Add saffron dipped in water.
Mix well and serve it hot.
4. Cheesy Falahaari Rolls:
Ingredients:
5 Boiled mashed Potatoes
1 tbsp grated paneer or cheese.
1 tbsp of coconut powder
1 tbsp groundnut powder
1 tbsp of Rajgira flour
1 tbsp of Singhada Flour
1 tbsp of chopped cashew nut
1 tbsp grated ginger
1/2 tbsp finely chopped green chilies
1 tbsp of Lemon juice
1 tbsp pomegranate
1 tbsp Rock salt, Cumin seeds, and Black pepper.
Finely chopped coriander leaves and Oil
Recipe:
First, heat the oil in the pan and add cumin seeds to it.
Add Green Chillies, Mashed potato, Coconut powder, and Ginger. Roast it well for 5 minutes.
Add chopped cashew nuts, paneer/cheese, groundnut, lemon juice, pomegranate, chopped coriander leaves, and rock salt and leave it to get cooked.
Cool down this mixture and make rolls of it. And then prepare the batter.
Batter recipe:
Take Rajgira flour and Singhadha flour in a bowl.
Add Rock salt, black pepper, and water and mix it will to make a thin batter.
Put the prepared rolls into the mix and make the solution.
Fry the rolls until it turns brown. Serve it with your favorite chutney.