Online Shopping is creeping in India. Nowadays, everyone likes to shop online instead go out and searching for there required kinds of stuff. E-commerce website makes our ways easy to reach the variety of products online. Online shopping has some boons and bane. For me, it's a boon. I don't need to waste a whole day in the market.
E-commerce websites make it easy; now my favourite brand is just a click away. It's easy to return, a gift to close ones and more.
Here are the top fashion online portals in India, which are doing great nowadays:
Abof (All about fashion) is relatively a new e-commerce website offers apparels for men and women both. It is an Aditya Birla Group's E-commerce venture. I must say, they are doing pretty good. I shop at them, and I am satisfied with their services. Abof, especially focus on fashion products so that it makes it a top brand. Abof running many discounts offers in festive seasons so that the top brands can reach to you at an affordable price.
AJIO is another emerging fashion brand in India by Reliance, Ajio offers apparels for kids, men and women from different popular brands. They offer excellent discount prices as well. Women can get a big range of ethnic wear, accessories, Lingerie in a pretty good variety.
Myntra is a most leading E-commerce platform today. They have a broad spectrum of women and men's clothing. India's top clothing brand will found here. Myntra initially started as a website, then they moved on to a mobile app. Again, they back to the site. They partnered with Deepika Padukone, Hrithik Roshan for their fashion ventures called All about you, HRX respectively.
Limeroad is one of the top women apparels websites with a large range of home decor, but recently they started for men as well. They offer a nice feature in which you can create your look by adding different accessories and products. It gives you a complete look at your actual attire. They also offered a broad range of home decor and kitchen pieces of stuff. Limeroad is the best destination for online shopping.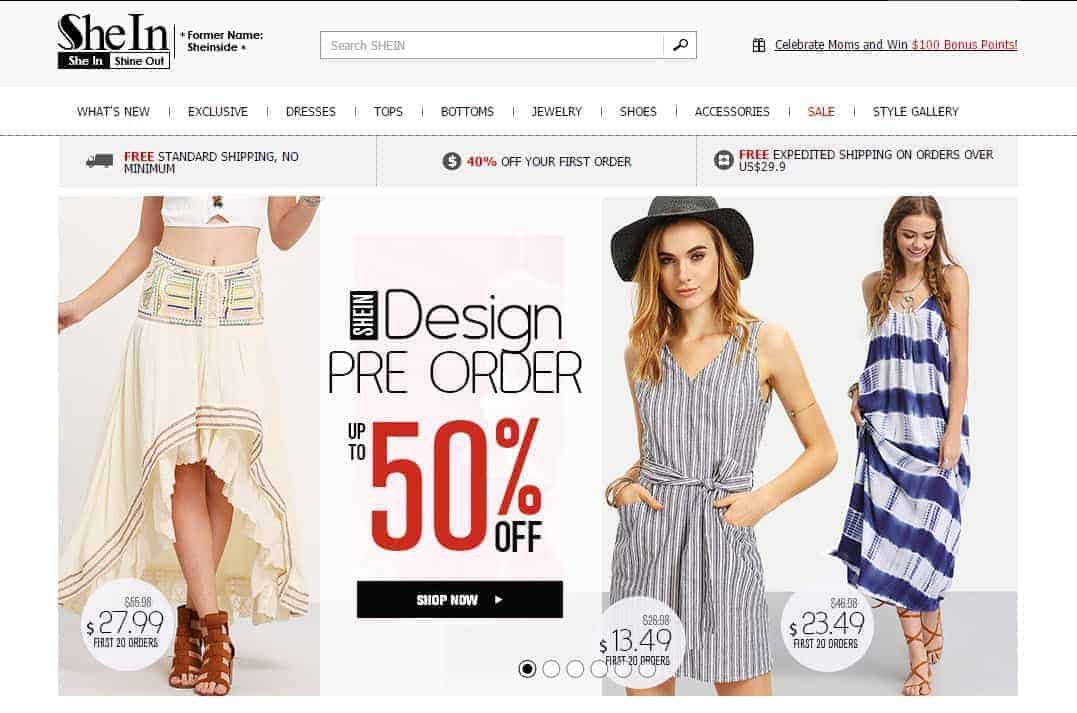 Shein is an American origin solely women's fashion e-commerce website found in New Jersey in 2008. They have made their place in such a short time Shein gets popularity in America, and now they are expanding internationally. They recently launched their Indian version. I must say they have a remarkably classy collection. High style fashionable clothes are available there. They have a broad range of clothing, footwear, jewellery and accessories.
We are talking about fashion website, how can we forget about Voonik. Voonik claims that they are India's first fashion mobile app with a vision of "every woman personal stylist." Voonik has a good range of Indian wear, western wears, footwears, lingeries, cosmetics etc.
StalkBuyLove.com is a leading fashion e-commerce website in India running by a duo Tushar Ahluwalia and Rashmi Ahluwalia. This site is quite popular among young girls as they offer trendiest styles and best fashion inspiration update. They provide luxury fashion designed outfits in India. Their designs are super unique, so you will likely not find anybody else wearing the styles that we have.
Jabong, one of the most trusted e-commerce portals, brings you the luxury to choose from its wide array of collection. Designed to clad you in style sans the thought of blowing up your salary, Jabong founded by the great trio- Arun Chandra Mohan, Praveen Sinha and Lakshmi Potluri. Some their customers recommend Jabong offers awesome coupon offers to buy branded products using them.  They have an extensive collection of accessories where you can shop for travel bags, backpacks, sunglasses, beauty products, watches and other such things.
Hmm! Koovs how anyone can forget koovs.com. They are quite trending among youngsters. Koovs offers apparel for men and women both. They beautifully bring international fashion to India on substantial discounts. They timely add fresh stocks. If you are looking for a simple yet fresh look, Koovs is the place for you.
Well, Flipkart is India's most leading e-commerce website in India. Flipkart is an electronic commerce company headquartered in Bangalore, Karnataka. It was started in October 2007 by Sachin Bansal and Binny Bansal. Flipkart has an extensive range of clothing and fashion products. They got more success in tech products like laptops, mobile phones other electronic products. Flipkart has launched its product range under the name "DigiFlip" with products including tablets, USBs, and laptop bags. Flipkart every year conduct its popular big billion day sale. They sold products worth ₹6.5 billion (US$100 million) in 10 hours in a special one-day event – "The Big Billion Day", claiming they had created e-commerce history, but their hard-won reputation for excellent customer service suffered because of technical problems, and angry reactions on social media from buyers disappointed with the pricing and availability of products.
Shopclues is a leading large e-commerce venture started in 2011 via Facebook. Within six years they set up tremendous goodwill in the market. They offer a broad range of Men, women and kids clothing. They are leading curator in electronic gadgets as well.
Amazon is an American electronic commerce and cloud computing company that was founded on July 5, 1994, by Jeff Bezos and is based in Seattle, Washington. It is the largest Internet-based retailer in the world by total sales and market capitalization. Amazon caters the largest range of fashion apparels throughout the India. I like Amazon's customer service very much. They are prompt in helping the customers. Till, as per my experience Amazon provides the fastest product delivery.
Well, the list is endless, due to the recent boom in the e-commerce area, lots of local business set up their own online presence to expand their businesses. In near future, India will be the largest hub for online shopping. Indian e-commerce market is continuously growing day by day. As the government promotes digital payment fuels the growth.
So, be stylish and unique in every festive season and make yourself a style quotient.